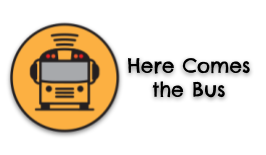 Sign up for Here Comes the Bus™ from your PWCS Mobile App
Click the Here Comes the Bus button from My PWCS or visit
If you already have a Here Comes The Bus account click Log-In
If you are creating a new account than enter school code 76348 and click "Next" followed by "Confirm"
Complete the "User Profile" box
Under "My Students," click "Add." Enter your child's last name and student ID number
Once you confirm your information, you're ready to begin using Here Comes the Bus!
Call the school for support at 703-494-3252
Do you have questions or want to leave feedback about this service? Contact [email protected].